Electric Chain Hoist For Construction Lifting Equipment Crane With Hook Building Block Motor 1, 2, 3, 5ton
Product Detail
Information
Product Tags
The weight of the electric chain hoist is generally 0.1 ~ 10 tons and the lifting height is 3 ~ 12 meters. The electric chain hoist features: advanced performance and structure, small volume, light weight, reliable performance, convenient operation and wide application range. It is very convenient for lifting heavy objects, loading and unloading, maintenance equipment and lifting goods. It can also be installed on suspended I-beam, curved track Lift heavy objects on the guide rail and fixed lifting point of the jib crane. All electric chain hoists are produced according to international standards. The body is beautiful, strong and durable. All internal gears are quenched at high temperature, which increases the wear resistance and toughness of gears. The most advanced international technology is adopted, with fine workmanship and tight fit between gears.
1. Advanced performance and structure,
2. Small size,
3. Light weight,
4. Reliable performance,
5. Easy to operate,
6. Wide scope of application
Model
Rated load
speed
Rated power
Running speed
Voltage
Number of chains
Chain diameter
Applicable I-beam
0.5-01S
0.5T
7.2m/min
1.1KW
Slow: 1.1m/min
Fast:
21m/min
3-phase, 380V, 50Hz
1
6.3mm
75-125mm
01-01S
1T
6.8m/min
1.5KW
1
7.1mm
75-178mm
01-02S
1T
3.6m/min
1.1KW
2
6.3mm
75-178mm
1.5-01S
1.5T
8.8m/min
3.0KW
1
10mm
82-178mm
02-01S
2T
6.6m/min
3.0KW
1
10mm
82-178mm
02-02S
2T
3.4m/min
1.5KW
2
7.1mm
82-178mm
2.5-01S
2.5T
5.6m/min
3.0KW
1
11.2mm
100-178mm
03-01S
3T
5.6m/min
3.0KW
1
11.2mm
100-178mm
03-02S
3T
3.3m/min
3.0KW
2
10mm
100-178mm
03-03S
3T
2.2m/min
1.5KW
3
7.1mm
100-178mm
05-02S
5T
2.8m/min
3.0KW
2
11.2mm
112-178mm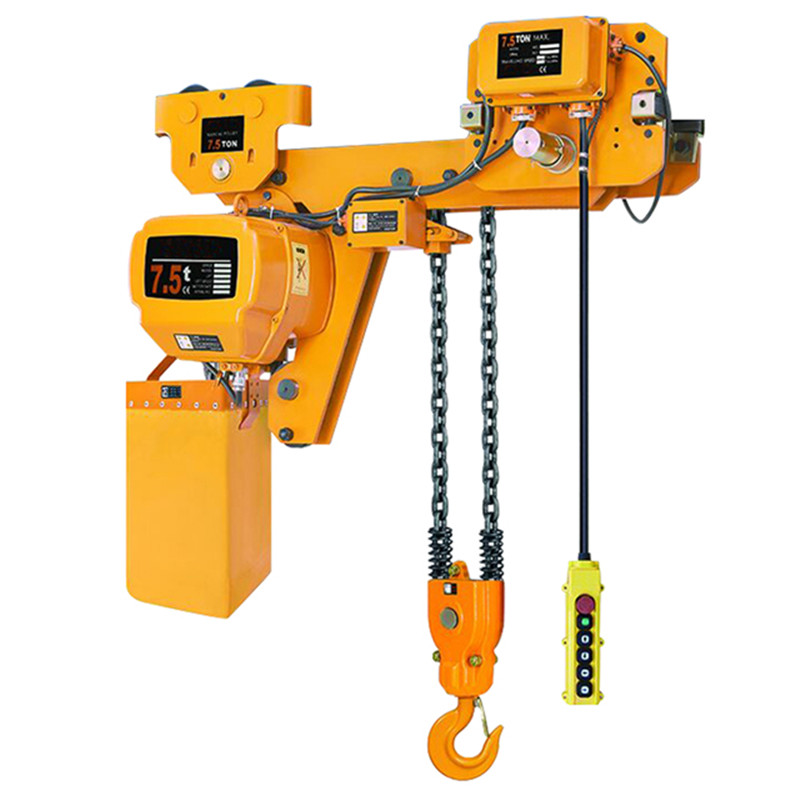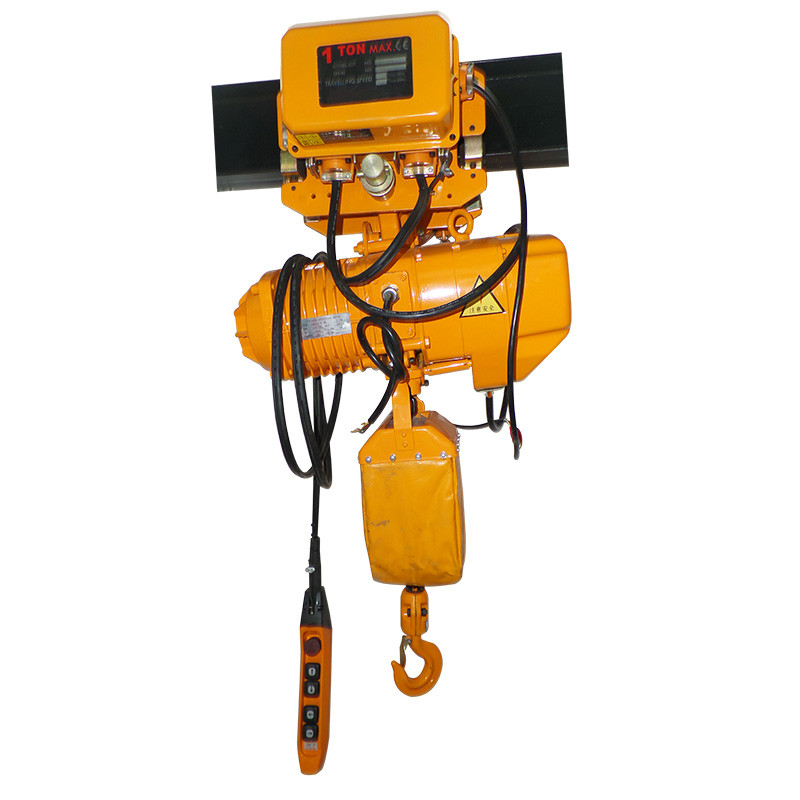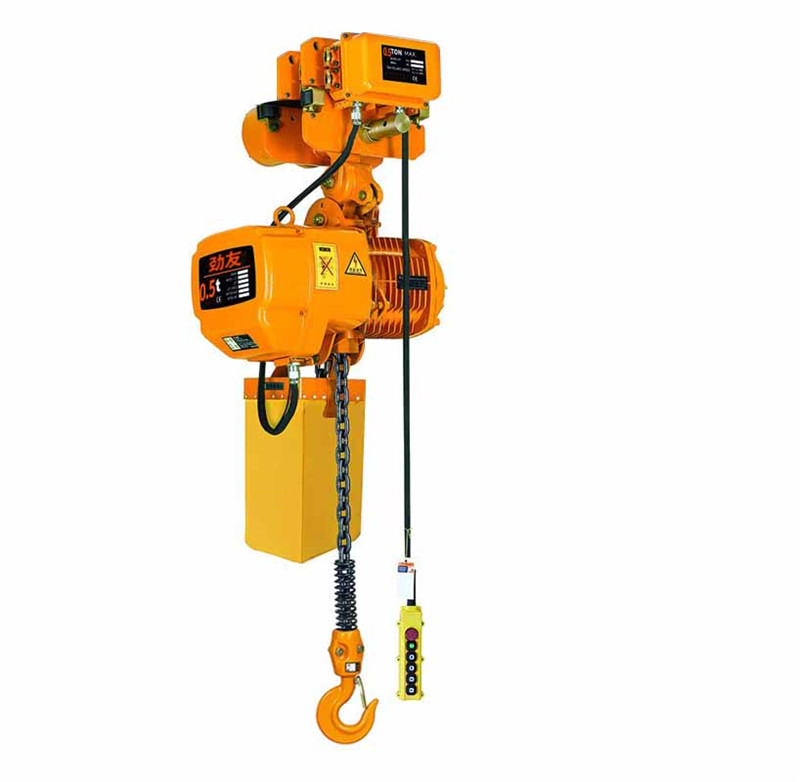 chain electric hoist is operated by people on the ground with buttons, or in the cab or wired (wireless) remote control. electric chain hoist has high working level, better safety performance, high reliability and low failure rate. The chain runs in the sprocket, which is not easy to fall off or jump slot, and the use is more stable.
Structural features of electric chain hoist: the product structure of electric hoist, the body adopts high-strength tensile shell or die-casting aluminum shell, and is precision manufactured by thin-wall extrusion process, with small volume, light weight and high strength. The standard electric chain hoist has an independent gearbox system, sealed the two-stage coaxial transmission gear mechanism in the gearbox, and adopts a long-life oil bath lubrication system. Electric chain hoist powder metallurgy clutch is used as overload protection device. Disc DC electromagnetic field braking is adopted for braking, with large braking torque, stability, speed and low noise.
1. What about the payment term&price term?
As usual, we accept T/T, credit card, LC, Western Union as the payment term, and the price term, FOB&CIF&CFR&DDP etc are ok.
2. What's the delivery time?
Usually, we will delivery the goods within 5-18 working days, but this is aim at 1-10pcs products, if you give more quantity, it just depends.
3. Are we a manufacturer&factory or trading Company?
Hebei Jinteng Hoisting Machinery Manufacturing Co., Ltd is a manufacturer in Hebei, China, we have specialized in crane&hoist over 20 years, our high quality products are welcomed in many countries.
---
Previous:
Tirfors Wire Rope Pulling Hoist Tractor Aluminium Hand Winch Wire Rope Hoist Hand hoist Wrench mechanical 800kg-20m
Next:
Hoisting belt hoisting engineering crane lifting webbing sling flexible trailer rope Custom safety lifting strap nylon
---