Quick Info: Non-Damaging Patented PU/STEEL Wheels – Low Profile – Mix & Match Same Height Skates – Corrosion Resistant Steel Components – Lifetime Technical Support
Manufacturer / Country of Origin: Hebei Jinteng hoisting machinery manufacturer company / Made in China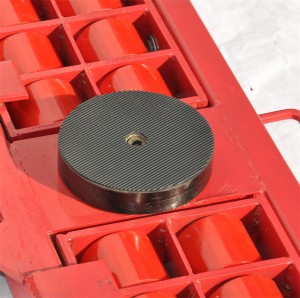 Description: Mix and match these 'steerable' front and rear 'straight-line' skates to any configuration.
All wheels have a low rolling resistance and are outfitted with sealed precision ball bearings.
The low profile of the skates keep the load close to the ground. Non-slip pads keep the system from slipping out from under the load, even when pulling and tugging.
Jinteng industrial machine skates are extremely durable, even under toughest working conditions, and have the highest reliability and safety standards in the industry.
Current skates are interchangeable with all models dating back 30 years. All steel components are powder coated or galvanized for corrosion resistance.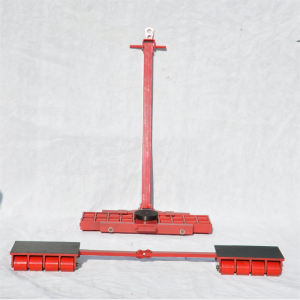 *NOTE: The steerable skate of set does not have a towing eye attached to the handle. See larger models for towing eyes.
Front Unit: This freely steerable unit comes with a thrust bearing supported turntable, eliminating the need to stop and reposition the skate to turn. Roll skates by pulling by hand or attach them to a forklift for towing.
Rear Unit: Designed to follow or be pulled in a straight line, the pair of skates may be connected with an adjustable spreader bar. Use of connecting bar is highly recommended to ensure that the dollies will be kept parallel for optimal stability.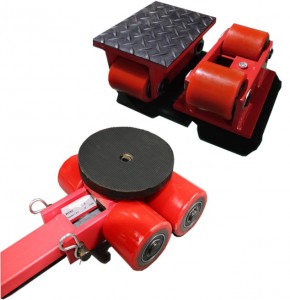 Wheel Type: The patented Jinteng advanced Polyurethane will not damage, scratch, or mark floors.
Quality Standard: All skates come with 2 year warranty and lifetime technical support. Models up to 12 tons meet safety standard ASME B30.1. Units with a load capacity exceeding 12 tons cannot not be tested, but have been built with even greater safety capacity.
Sets Include: Front Steerable Unit: (1) one steerable front skate with pulling handle. Rear Straight-Line Unit: (2) two straight-line rear skates, and (1) one connecting bar.
---
Post time: Sep-16-2022