Lifting tripods chain block lifting support telescopic tripod chain fall hanger 1T 2T 3Ton Tripod Lifting Equipment
Product Detail
Information
Product Tags
When the telescopic lifting tripod is installed, it does not need any other auxiliary tools. The tripod legs are adjustable and fixed with screws. When the tripod is installed, the maximum height is 3M and 4m. It is widely used in various fields of production, factories, workshops, repair departments, warehouses, mines and outdoor sites.
The lifting tripod can be transported to one place by minicar. It can be equipped with chain block and electric hoist. It is widely used in mines, wellhead, workshops and warehouses. It is also a necessary lifting tool in places without power supply.
1. Retractable, easy to carry,
2. It is easy to install and can be used for rapid rescue,
3. Stability and safety,
4. High breaking force and good flexibility.
| | | | |
| --- | --- | --- | --- |
| Model | Rated load | height | Net weight |
| 1000kg | 1000kg | 3m | 65kg |
| 2000kg | 2000kg | 3m | 75kg |
| 3000kg | 3000kg | 4m | 100kg |
| 5000kg | 5000kg | 3m | 120kg |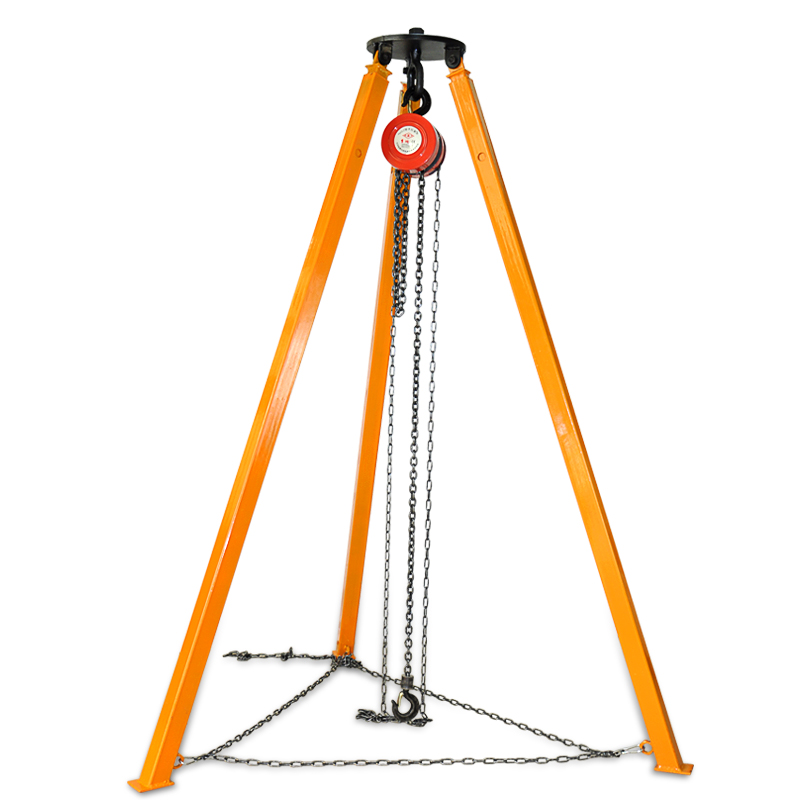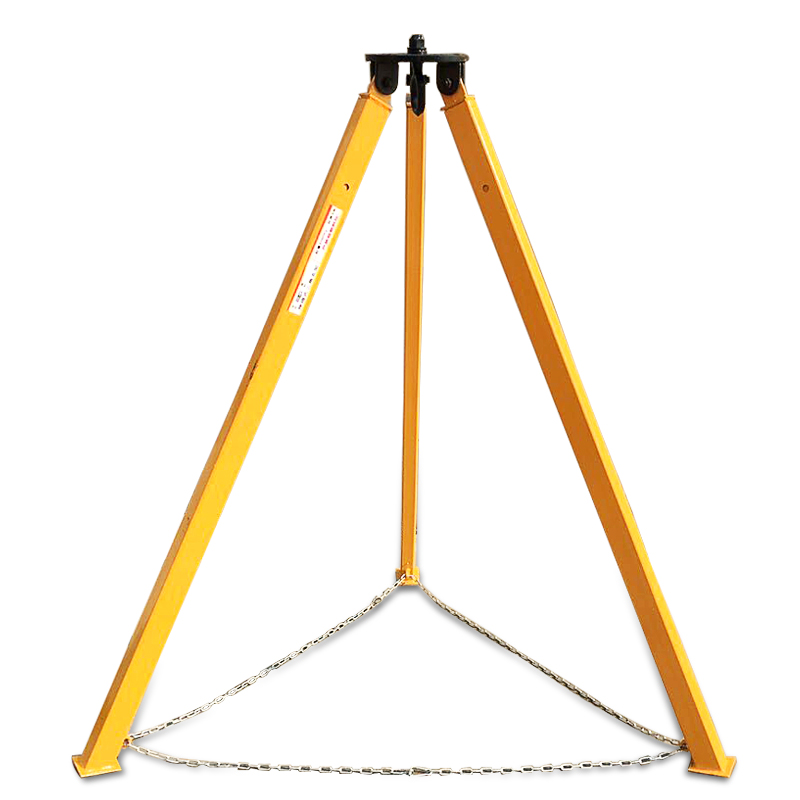 Lifting tripod is a material handling tool for lifting or jacking heavy objects. It is mainly used for lifting and rescue of trapped people in mines and deep wells in places such as openings, hills and high-rise buildings.
The lifting tripod is composed of tripod, winch and foot chain. Generally, the retractable feet made of high-strength light alloy are used to ensure the strength and minimize the weight. The safety factor is greater than 10. The lifting holes for assembling 3 sets of safety cables are set, and the bottom feet are equipped with ring protection chains.
It is made of high-strength light alloy to ensure strength and minimize weight at the same time;
The three outriggers are retractable and easy to carry and transport;
Universal design of frame head lifting ring ensures convenient hanging and installation of winch hook;
The large-area foot design ensures the landing area. The foot is equipped with bow unloading hook and protective chain to ensure the stable and safe operation of the tripod;
The winch has a forward and reverse self-locking structure to ensure the safety of the sling;
The sling adopts special stainless steel wire rope, with high breaking force and good flexibility;
The installation is convenient and the height is adjustable. It can be placed at the wellhead and pit mouth to quickly rescue the trapped people
1. What about the payment term&price term?
As usual, we accept T/T, credit card, LC, Western Union as the payment term, and the price term, FOB&CIF&CFR&DDP etc are ok.
2. What's the delivery time?
Usually, we will delivery the goods within 5-18 working days, but this is aim at 1-10pcs products, if you give more quantity, it just depends.
3. Are we a manufacturer&factory or trading Company?
Hebei Jinteng Hoisting Machinery Manufacturing Co., Ltd is a manufacturer in Hebei, China, we have specialized in crane&hoist over 20 years, our high quality products are welcomed in many countries.
---
Previous:
Portal Frame Pay-Off Stand Cable paying off rack optical fiber paying off device electrical wire reel rack
Next:
Fire Rescue Tripod emergency thickened deep well rescue device Confined Space Tripod Well Rescue Non-slip
---